This page is the brochure for your selected program. You can view the provided information for this program on this page and click on the available buttons for additional options.
European Council Edinburgh, Scotland
Edinburgh, United Kingdom
(Outgoing Program)
Featured
Program Terms:
Program Terms:
Summer

Program Sponsor:
European Council
Program Dates & Deadlines:
Click here to view
Courses Offered:
Click here to view
Restrictions:
VSU applicants only
Fact Sheet: - unrelated header
Fact Sheet:
Program Description:
Program Description:
European Council: Edinburgh, Scotland
About the Program
|
Program Information and Course Structure
Payment & Refund Schedule
|
Deadlines & Late Fees
Courses & Course Description
|
How to Apply to the Program
Insurance & Passport Information
|
Contact Us
Find Your Campus Representative
List of all 2018 European Council Classes:
Courses by Program | Courses by Subject
About the Program
Come join us to live and study for two weeks in historic Edinburgh, the capital of Scotland and UNESCO City of Literature and home to two World Heritage Sites. Come walk the same streets as did historic figures as Mary Queen of Scots, Adam Smith, and William Wallace, and see the sites that inspired such literary figures as Harry Potter, Sherlock Holmes, John Rebus, and Dr Jekyll and Mr. Hyde. Once known as "Auld Reekie," Edinburgh today is world renowned for its architecture, university, and castle as well as for producing some of the world's most well-known writers such as JK Rowling, Walter Scott, Sir Arthur Conan Doyle, and Robert Louis Stevenson. In addition to such historic sites as the Royal Mile, the National Museum of Scotland, Edinburgh Castle, Calton Hill, and Greyfriar's Kirk, Edinburgh also boasts wonderful restaurants, lively pubs, a thriving theatre and music scene, and serves as the center of Scottish politics. Students can enjoy street performances, stroll parks such as the Meadows or Princes Street Gardens, watch a local rugby or football match, listen to local music and comedians, or brave the summit of Arthur's Seat (the site which inspired James Hutton, the founder of modern geology.) In addition, students in the program will also visit cities such as Glasgow, Stirling, and St. Andrews as well as the Scottish Highlands, lochs, glens and whisky distilleries. Students can also take advantage of Edinburgh's location and rail, bus and air transportation opportunities to visit places such as Aberdeen, the Orkney Islands, Manchester, York, Newcastle or even London. As the French writer Voltaire once wrote, "We look to Scotland for all our ideas of civilization," and now you can, too.
Dates:
Edinburgh Session I:
May 12-May 25
Edinburgh Session II:
May 26-June 8
Cost for Session I and Session II:
$2,995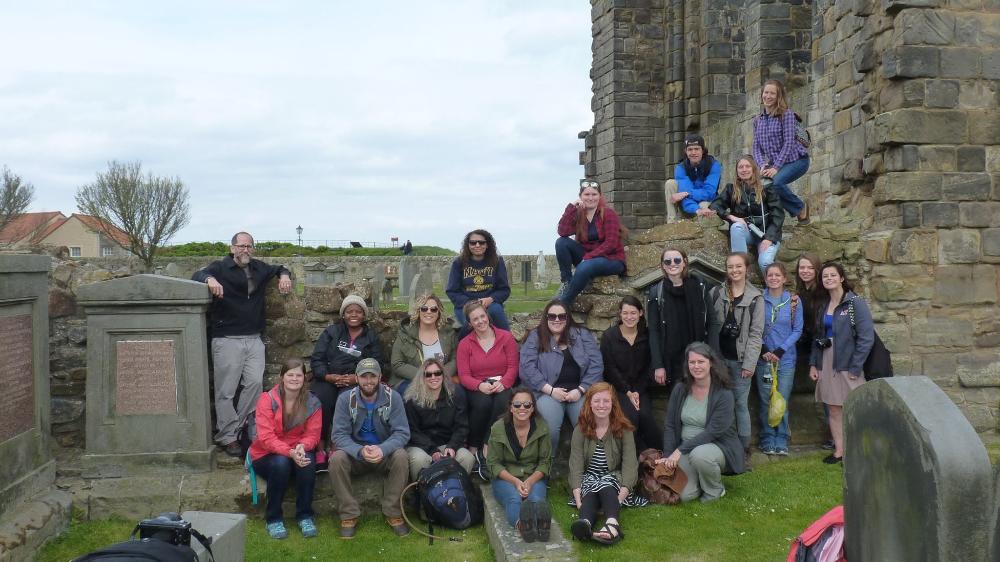 The package cost of $2,995 for the
two-week
program includes:
Round-trip airfare between Atlanta and Edinburgh
Accommodations for the duration of the program
Visits to Glasgow, Stirling, and St. Andrews
Breakfast daily
A primary health insurance policy providing coverage for medical expenses
The package cost does not include tuition, textbooks, extra meals, entrance fees, and weekend travel expenses, passport and related expenses, spending money, ground transport to and from the U.S. airport through which flights will be scheduled, or any other costs beyond those listed above.


Program Information & Course Structure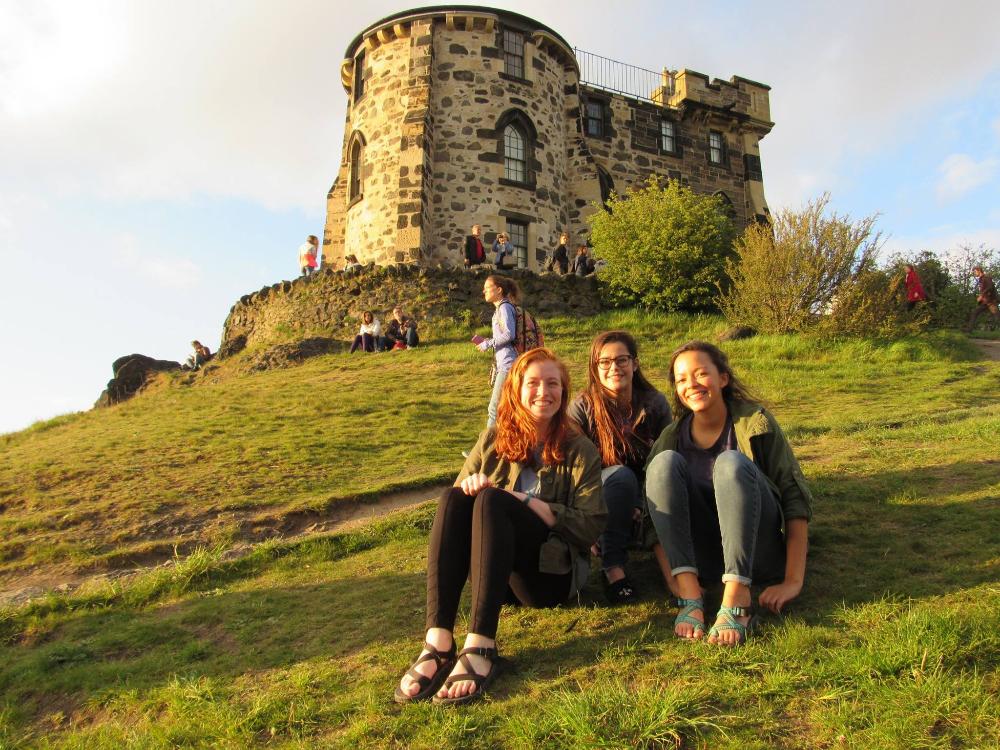 Courses offered will be completed through both onsite lectures, walking tours, and group discussions coupled with readings, writing assignments and online lectures. Coursework will begin in the weeks before we leave, and will continue after we return via online content. Students can take either one or two courses for a total of 6 credit hours.
On the first weekend, the program offers an introductory walking tour of Edinburgh that acquaints program participants with the city. Students will also have a free weekend in order to explore Edinburgh, other parts of Britain, or Europe. They will also have the opportunity to participate in day excursions to other parts of Scotland, including a walking ghost tour.
Accommodations
The Scotland Study Program is based at the Smart City Hostel in the Old Town historic district of Edinburgh. The hostel is in the heart of historic Edinburgh, and is within walking distance of all the major sites. In addition to several bus stations that are within a walk of 5-10 minutes, local taxis are readily available. The hostel is surrounded by grocery stores, cafes, pubs, and restaurants.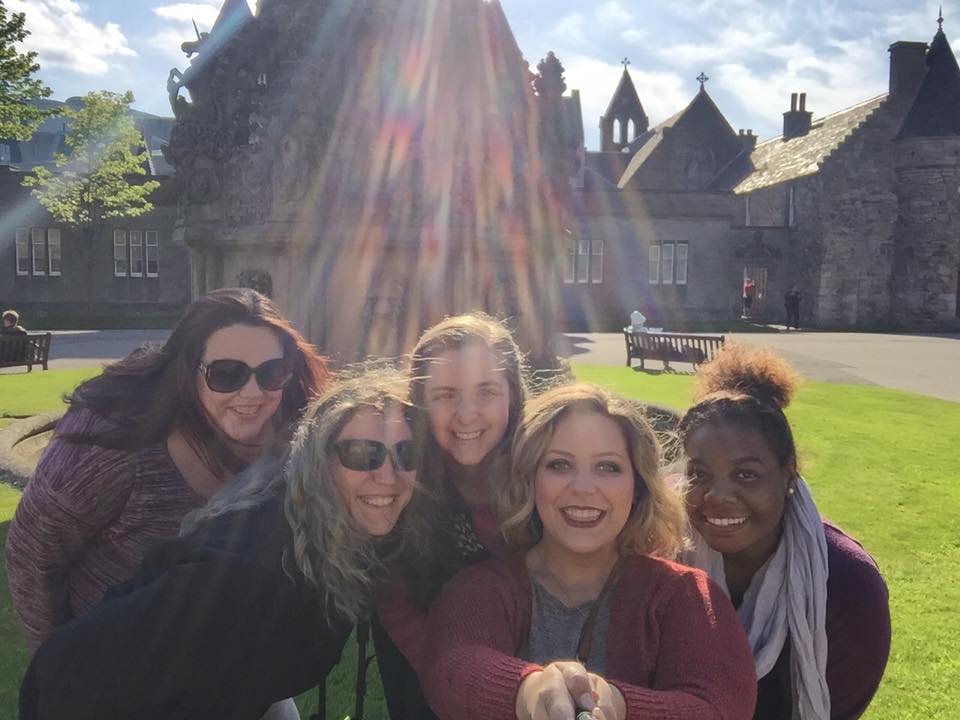 Students will stay in twin rooms at the Smart City Hostel with private bath and toilet facilities. Additional restrooms and bathing facilities are on each floor. Access is restricted to pass keys, a security guard is always on duty when the building is open, and the front desk is staffed twenty-four hours a day. Wi-Fi is available for a small fee and is free in the restaurant; communal computers are also available in the lobby area. The hostel also features a bistro, restaurant, laundry facilities, and a community kitchen complete with stoves and refrigerators.
Costs
Courses in the 2018 Scotland Study Abroad Program are part of the regular offerings of member institutions; therefore, students may apply for loans or grants for which they would normally be eligible. Students should apply for financial aid at the campus where they are registering for courses.
Campus representatives
will assist students in obtaining information about financial aid. Students must meet all campus requirements in applying for financial aid.
Students should plan to budget a minimum of $200 per week for meals. If students plan extended travel or major shopping, additional funds should be budgeted. Optional excursions might involve additional fees; course instructors will inform students of such fees during the mandatory student orientation on April 15, 2018.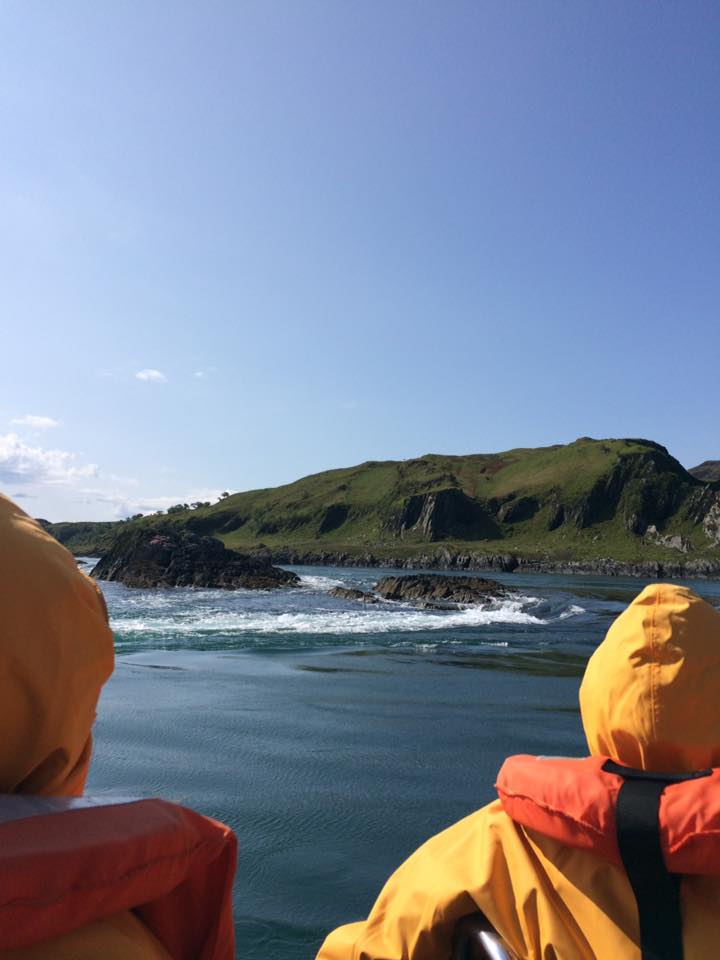 Payment Schedule
Feb 2...............Application form and $300 non-refundable program deposit due
Feb 8...............First payment of $1357.50 due
March 9...........Final payment of $1347.50 due
All costs are subject to change because of unanticipated increases in airfares or other program elements or fluctuations in monetary exchange rates. The European Council will make every effort to keep program costs as advertised and will inform prospective participants of any changes as they occur.
Refunds
Application fees and other payments are applied toward required advances, purchase of airline tickets and other costs related to the program. Note that the $300 application fee is non-refundable and covers processing and reservation fees; the application fee can not be transferred to a subsequent year.
Participants who withdraw from a program after the application deadline receive a refund according to the schedule below. Please note that all withdrawals must be emailed to the EC Coordinator, Beverly Vantine, at bbreeland@valdosta.edu AND to the student's
campus representative
at the home institution.
Withdrawal before Feb 2..................................All but $300 will be refunded
Withdrawal between Feb 3 and Feb 18..............All but $500 will be refunded
Withdrawal between Feb 19 and March 2...........All but $850 will be refunded
Withdrawal between March 3 and March 30.......All but $2000 will be refunded
Withdrawal after March 30................................No money will be refunded
Important Deadlines
Feb 2nd–
Application deadline (spaces are available on first come, first serve basis and students are strongly encouraged to apply early)
Feb 8th–
First Payment
March 9th–
Final Payment
March 16th–
Two passport photo due (late fees apply, see below for details) if they're not received IN OFFICE by 5pm on this date. Photos MUST be passport photos that adhere to the passport agency's rules and regulations for photos. Photos that are submitted that do not comply with these rules will be denied and late fees will still apply. Please visit the
Department of State's website
for detailed passport information.
March 16th–
An electronic copy of your passport is due. Passports should be scanned and emailed to the European Council coordinator; faxed and mailed copies are not accepted. Late fees apply, see below for details.
March 9th–
Deadline for separate airfare waiver or flight deviation; see below for details.
April 14th–
There is an all-day *mandatory* student orientation in Macon at Middle Georgia State College. This meeting starts at 9am and is over at 4pm. Students who fail to attend will be penalized by dropping the final grades for study abroad courses by an entire letter; if you receive an "A" in the course, the grade of "B" will be submitted to your home institution as your final grade.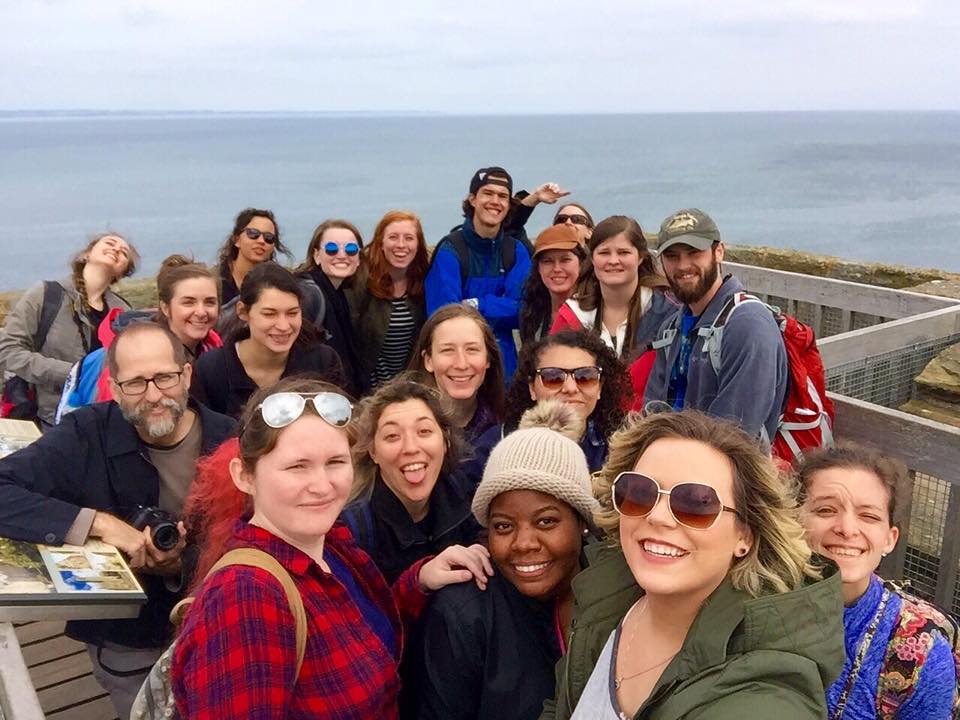 Late Fees for Passports & Photo
Items received between March 17 – March 25 $25 late fee
Items received between March 26 – April 5 $50 late fee
Items received between April 6 – April 12 $75 late fee
Items received on April 13th or after Will be charged the $75 late fee and an additional $5 per day.
Flight Deviation/Separate Airfare
Airfare is included in the price of the program. However, if you wish to arrive to Europe sooner, or stay later, there is a *possibility* that you can do this at an additional expense to you. Students are also allowed to do 100% of their own airfare; however, in order to keep our group rate, only a certain number of students may do this and must receive authorization from the EC coordinator. If you are given permission to do your own airfare, there will be a deduction from your SECOND payment. All deviation and separate airfare request must be submitted by March 9th and these opportunities are provided on a first come first serve basis. All requests submitted after March 9th will be denied.
Course Descriptions
Students may choose to take one or two classes unless their home institution requires two classes. See your
campus representative
for your institutions course equivalency
Lower Level Courses
Rebels, Kings and Witches: US and Scotland Before 1865

(Session I and Session II)


Dr. Dave Nelson (Bainbridge State College)
Scotland's past is overcrowded with stories of witches, plagues, rebellions, and wars. Yet Scotland has also made huge contributions to both the United States and Western Civilization. Come explore Scotland's journey from a small, struggling country suffering through wars with England, witch crazes and rebellions to its ultimate emergence as a leader in literature, science, and the Enlightenment. This course is designed to be taken as either Western Civilization II or US History 1.
British Literature I: From Fairyland to Hogwarts: The Fantasy Worlds of Scottish Fiction

(Session I only)


Dr. Benita Huffman Muth (Middle Georgia State)
Explore the literary fantasy worlds inspired by the real Scotland and its rich folklore tradition. Encounter early tales and ballads, then study the supernatural realms of writers from the 18th century to the present, including Robert Burns, James Hogg, James Barrie, Robert Louis Stevenson, and J.K. Rowling.
Introduction to Psychology (LD)

(Session II only)


Dr. Christine Simmons-Moore (West Georgia)
The fascinating topic of psychology explores the human mind and behavior. In this course, students will learn about the history of psychology and gain a unique understanding of the different ways in which psychologists have tried to understand human behaivor and thought. Over the course of two weeks, students will become submerged in psychology and learn about psychoanalysis, behaviorism, social psychology, personality psychology, abnormal psychology, biological psychology, cognitive psychology, and humanistic and transpersonal psychology as illustrated and informed by examples in Scottish culture.
Upper Level Courses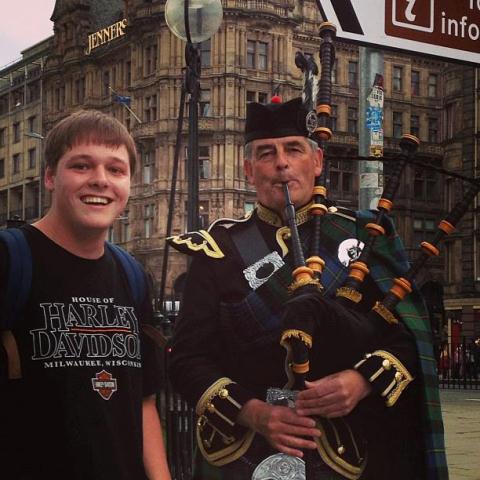 From Witch Burning to Body Snatching: The Transformation of Scotland, 1550-1850
Dr. Dave Nelson (Bainbridge State College)

(Session I and Session II)
Help us decipher how Scotland transformed from a poor, violent and largely illiterate country to one Europe's leaders in science, education, Enlightenment ideals, and medicine.
The Devil Went Down to Scotland: Witchcraft and Wizardy in Scottish Writing
Dr. Benita Huffman Muth (Middle Georgia State)

(Session I only)
Come to the dark side of Scottish literature. From Auld Clootie and Mr. Hyde to Voldemort and the criminals of modern Scottish crime fiction, we will examine how devils and devilry in Scottish literature explore the psychology of evil. Historical witch trials and folklore devils will provide the basis for our study of Scottish literature from the Enlightenment to the present.
Psychology of Scottish Ghosts & Second Site (UD)

(Session II only)


Dr. Christine Simmonds-Moore (West Georgia)
Scotland is a melting pot for myths, folklore and a variety of anomalous or exceptional experiences. There are stories of mythical creatures (the Loch Ness Monster), "Second Sight" (extrasensory perception), miraculous healings, and sightings of ghosts and folkloric characters (including Selkies and faeries). In more recent history, there have been tales of past lives and the case of the medium Helen Duncan-the last person to be imprisoned under the witchcraft act. This course will critically explore the psychology of anomalous experiences including personality and other correlates of experiences, dissociation and altered states, creativity, synesthesia, hallucinations, earth lights, etc.
Apply to the Program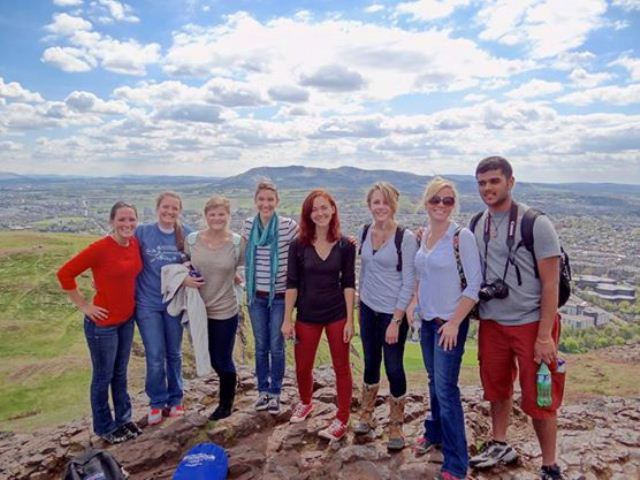 Directions on how to apply:
Download and complete the European Council application
Turn the application to your campus representative. If you do not know who your representative is click here.
After you submit your application to your campus representative, please pay the $300 non-refundable application fee at the payment page.

*Campus representatives forward completed applications to the program office at Valdosta State University. Applications will not be processed by the EC office until both the application form (approved by the campus representative) and the $300 application fee are received.
** Spaces are available on a first come, first serve basis according to the date of receipt of the application and application fee. Students are encouraged to apply well in advance of the application deadline to assure them of a place in the program as some programs will fill as early as November. Once a program is full, students will be placed on the waitlist. Please do not be discouraged if you're placed on the waitlist as we always anticipate a 15% drop.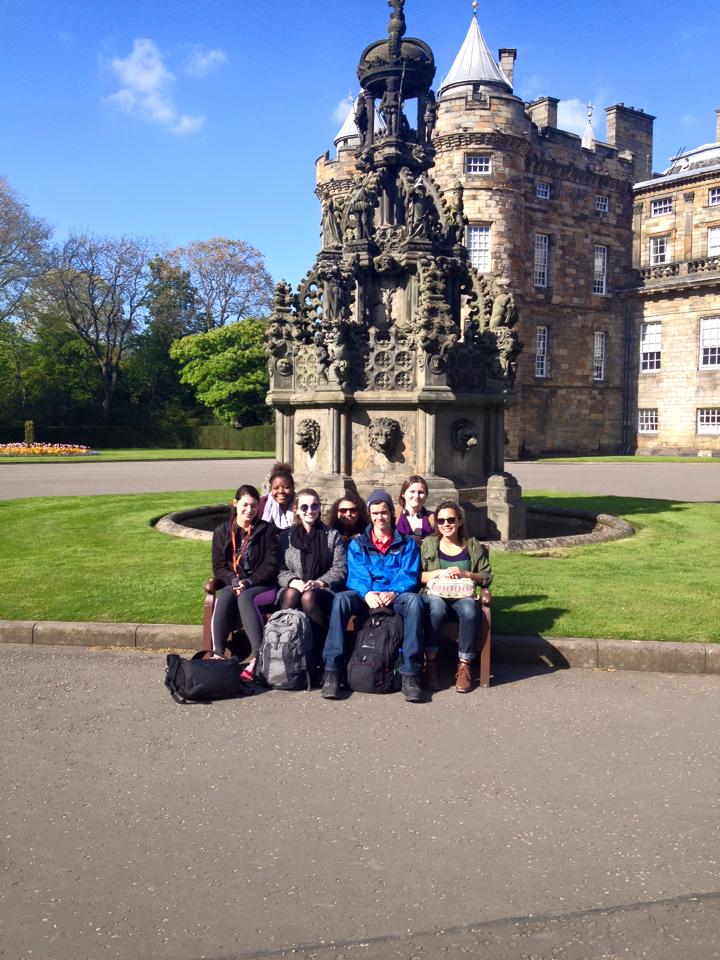 Eligibility
Any full-time or part-time student is eligible to participate in the program as long as the student will be 18 years of age by the time of departure.
Students must be in good academic standing in order to be admitted to the program. Completion of an application form does not guarantee acceptance into the program. Note also that individual campuses may require letters of reference or other information beyond that required by the European Council.
Students from institutions that are not part of the University System of Georgia must become a transient student at Valdosta State University. Click here for information on becoming a transient at Valdosta State University
Health Matters and Insurance
Participants are provided with health-care from CISI insurance (Cultural Insurance Services International) that covers them while they are abroad.
Students with special medical problems may be required to provide a physician's assurance of their ability to undertake foreign travel and study. It is not possible for the European Council to guarantee accessible facilities abroad for students with special needs.
Participants should bring medications they regularly depend upon and should have copies of prescriptions in generic form in case they need to acquire additional medications.
No special immunizations are needed to enter Scotland, and the International Immunization Certificate is not required.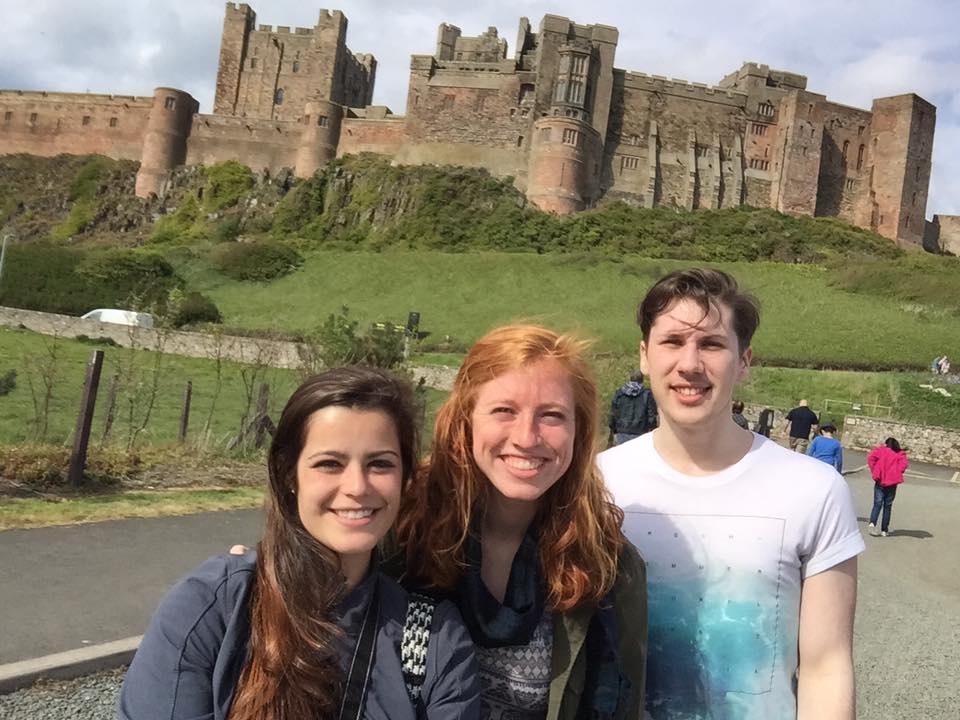 Passports and Visas
Everyone who travels to Scotland must have a valid passport. Participants with expired passports should have them renewed. Participants who have never had a passport should begin the process of obtaining one immediately as it of takes more than 3 months to get a passport. Inquire at your local post office for instructions on obtaining a passport.
Holders of U.S. passports do not need visas to enter Britain for summer study. Participants traveling on passports of other countries should contact their campus representative for assistance in determining whether they need a visa.
Some countries require that your passport be valid at least three (3) months beyond the dates of your trip. Some airlines will not allow you to board if this requirement is not met.
Please visit the Department of State's website for more information on how to apply for a passport. Students are required to turn in a copy of their passport by March 16, 2017 to avoid a late fee (please see "Deadlines" for details).
Contact Us
Contact your Campus Representative to submit an application and determine course equivalencies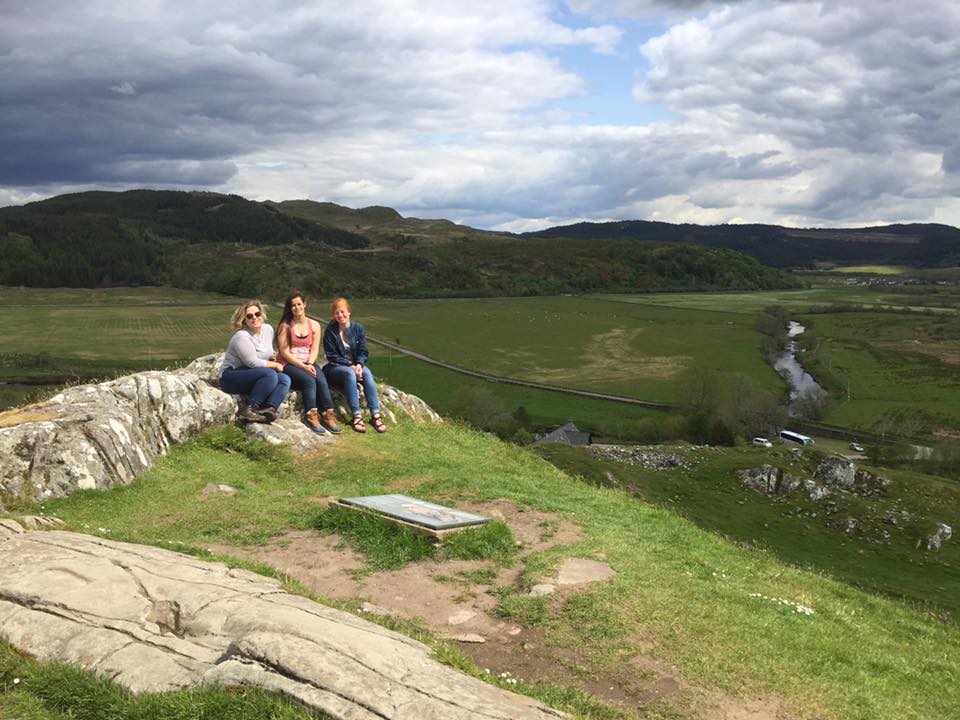 General Inquires
europeancouncil@valodsta.edu

Dr. Dave Nelson
Scotland Program Director; Bainbridge College
david.nelson@bainbridge.edu
Dates / Deadlines: - unrelated header
Dates / Deadlines:
Tabular data for Dates / Deadlines:

| Term | Year | App Deadline | Decision Date | Start Date | End Date |
| --- | --- | --- | --- | --- | --- |
| Summer | 2019 | 05/01/2019 | 08/01/2019 | TBA | TBA |